LWL Spring Tasting Collection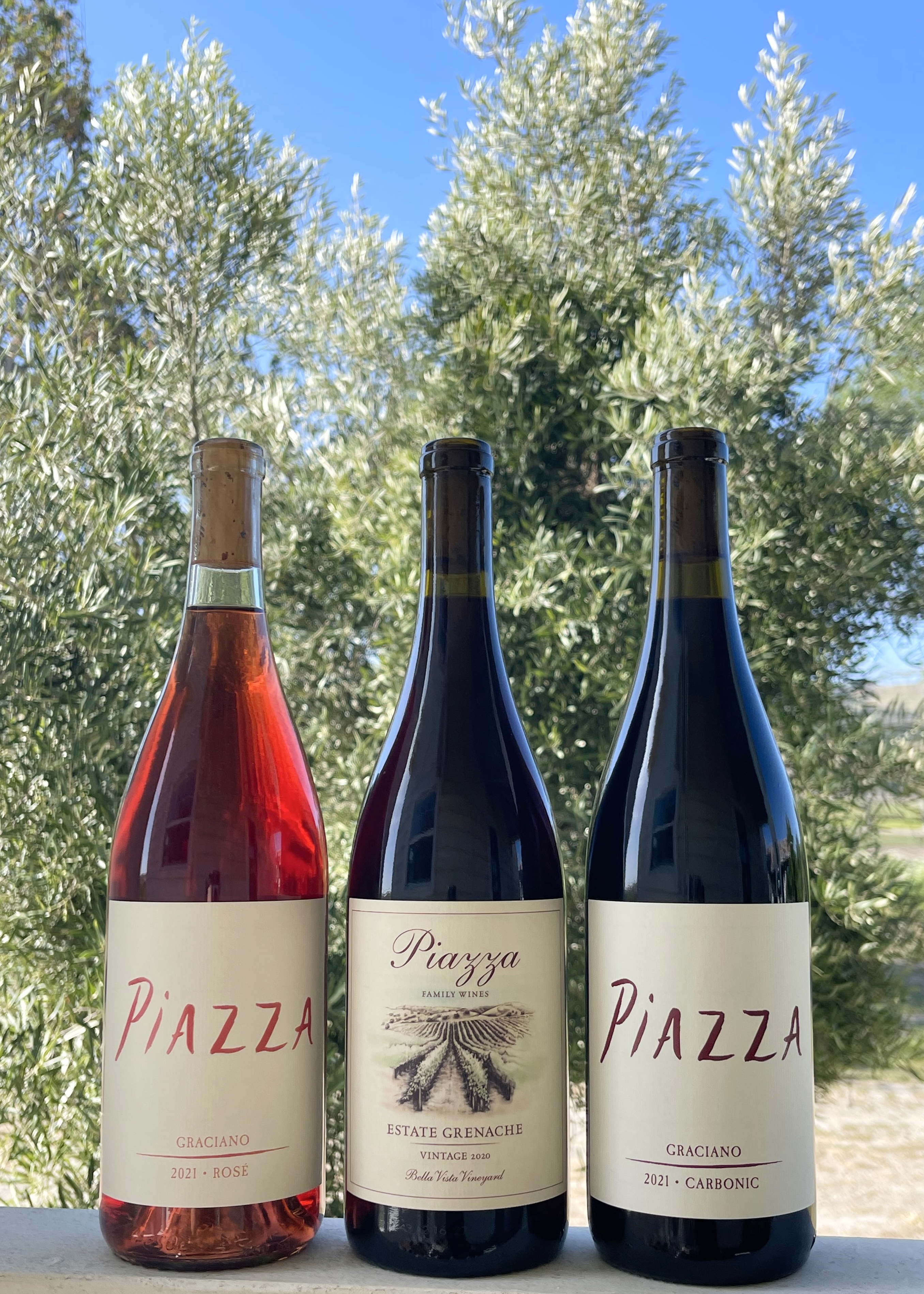 1 Bottle of 2021 Rosé of Graciano
1 Bottle of 2021 Carbonic Graciano
1 Bottle of 2020 Estate Grenache

A special Spring collection for Lexi's Wine List including our first-ever Rosé and two reds perfect for Spring and Summer!

2021 Rosé of Graciano - Retail $28
100% Graciano- Bella Vista Vineyard- Ballard Canyon AVA

First-ever release of Rosé for Piazza Family Wines. This bright and elegant wine is full of aromatics of guava, concentrated perfumes, grapefruit oil with a palate of fresh yellow apples, racy acid that highlights the minerality in this wine, and a long lingering finish. The beautiful texture and bright acidity make this wine a perfect match for everything spring. A go-to favorite of our team is pan-seared halibut with citrus-jalapeno salsa or goat cheese mixed with toasted almonds and dried cherries.

2020 Grenache - Retail $ 38 - 93 pts. Wine Enthusiast
100% Grenache - Bella Vista Vineyard- Ballard Canyon AVA

This is the second vintage of Grenache from Bella Vista Vineyard and it is absolutely stunning! Highlighting notes of cranberry, coastal sage, strawberry, and pomegranate. Flavors of vibrant fruit accompanied by hints of pine, layers of rose petal, and slight white pepper. This wine has a lovely balance of delicate tannins and fresh acidity that leads to a long mineral-driven finish. A perfect wine for Spring and an irresistible treat for any day.

2021 Carbonic Graciano - Retail $ 30
100% Graciano - Bella Vista Vineyard- Ballard Canyon

This lively and fun wine is full of notes of sasparilla, violets, and cranberries with a bright zingy palate of bing cherries, cola, and an acid profile that highlights the gorgeous balance of this wines acidity, minerality, and long creamy finish. The ideal accompaniment to many occasions- we suggest serving this wine with a slight chill on a warm day.
Vineyard

Bella Vista Vineyard

Composition

100% Graciano - direct press
100% Graciano
100% Grenache