2020 Dominic's Collection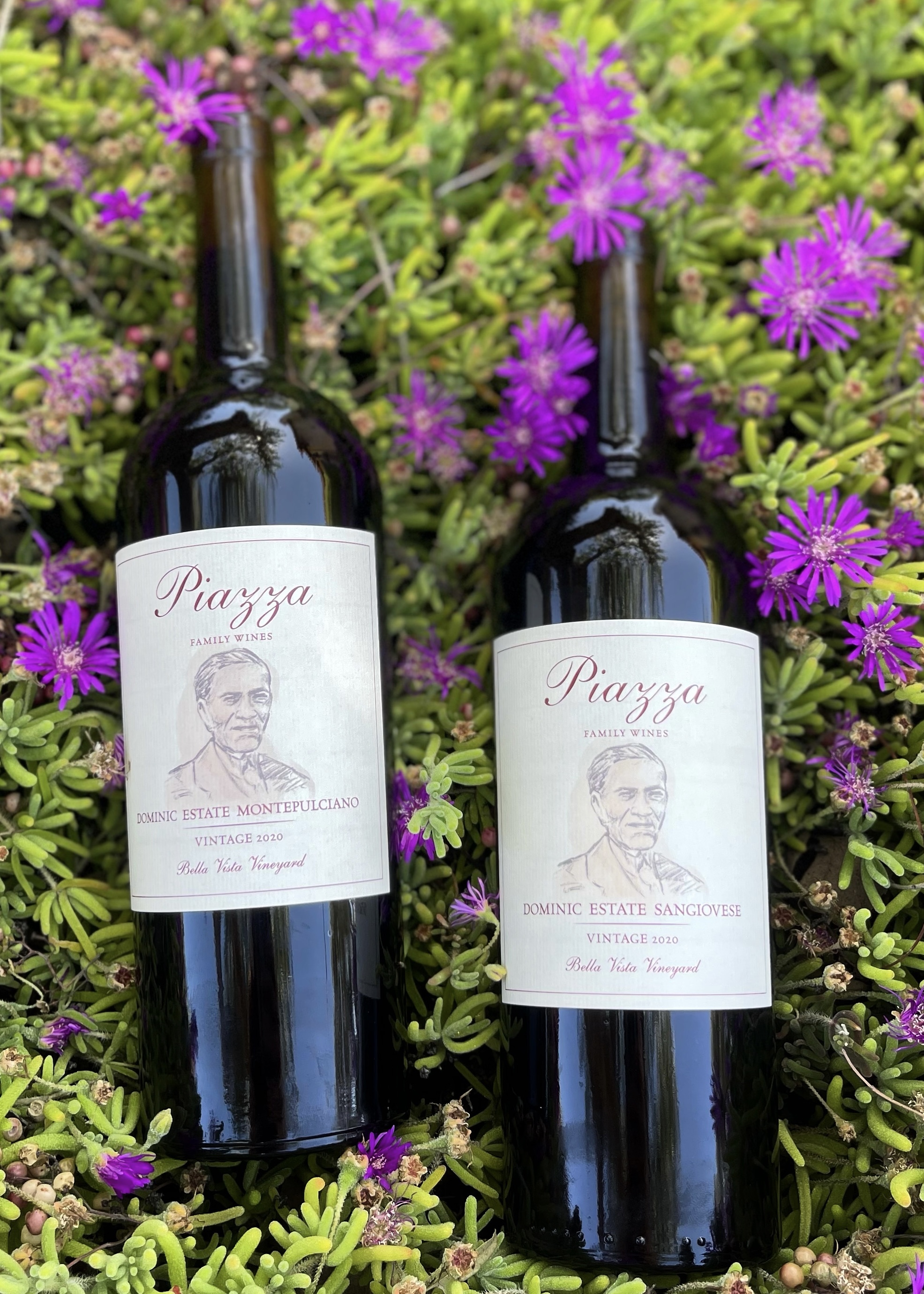 You don't need to voyage to Italy to experience hand-crafted world-class Italian Wines... Introducing the Piazza Family Wines 2020 Estate Montepulciano and 2020 Estate Sangiovese!

These two new Italian wines are bottled under our Piazza Family Wines Dominic's collection. Dominic's collection of wines is a tribute to Dominic, the grandfather of our owner, Ron Piazza. Originally hailing from Sicily then Queens, New York, the Italian heritage in the Piazza Family runs deep. Sunday family dinners with wines paired with Dominic's stories, jokes, and subtle wisdom are fond memories that inspired Ron to plant these grapes and create this collection of wines. As you enjoy Dominic's collection of wines, please remember to enjoy these wines with smiles and the company of those you love.

2020 Dominic Estate Montepulciano- 100% Montepulciano- Retail $58 / Wine Club $46
93 pts. and Editors Choice Wine Enthusiast
10 cases made

The 2020 Dominic Estate Montepulciano is an extremely elegant and refined wine for such a young vintage. Initial aromatics of blackberry jam, red plum, orange peel, and wafts of Italian herbs, lead you into the bright acidity and red fruit-driven palate. The balanced palate, dynamic flavors, and long smooth chalky finish make this wine one you'll be begging for more of. This wine continues to surprise us as time goes on with its complexity. We recommend either decanting this wine for 45-80 minutes or time in the cellar. The 202o Estate Montepulciano is perfect for any occasion but especially one to share with those you love. We suggest pairing it with an osso buco or veal chop after decanting this beauty for about an hour.

2020 Dominic Estate Sangiovese- 100% Sangiovese- Retail $56 / Wine Club $45
92 pts. Wine Enthusiast
14 cases made

Our Estate Sangiovese is a true tribute to Ron's heritage in Italy. This wine exudes all things Mediterranean and just so happens to be the perfect pairing to most all Sicilian flavors and dishes. With aromatics of oregano, strawberry jam, red plum, and nutmeg this wine entices your palate and brings you to flavors of raspberry, cherry compote, and cured meats leading to a cedar midpalate and long smooth tannins. The long evolving palate of this wine makes it a perfect pairing for most foods. This wine not only is fantastic alongside traditional Italian meatballs and red sauce meals, it is also the perfect accompaniment to Sicilian favorites like Pasta alla Norma, arancini, and of course alongside any charcuterie board.
Vineyard

Bella Vista Vineyard

Composition

100% Montepulciano
100% Sangiovese